A Global Recognition to Webandcrafts
A Global Recognition to Webandcrafts
News
3 min read
February 10,2015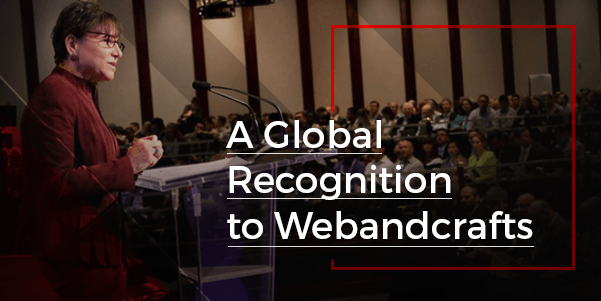 A marvellous moment for our company as we have been recognized by the honorable U.S Secretary of Commerce Penny Pritzker at ICANN's 51st Public Meeting held in Los Angeles. The Brand "Webandcrafts" is now on the global platform as a proven example and motivation for the IT startups. The ICANN(Internet Corporation for Assigned Names and Numbers) is a non-profit organization accountable for the coordination of maintenance and methodology for several databases of unique identifiers related to the namespace on the Internet.
Recognition from dignitaries is always imperative being a true indicator of our efforts and determination to arrive in this position. An appreciation finds worthy and valuable when it is from an esteemed personality like Ms. Penny Pritzker- the U.S secretary of Commerce, who have keen influence on people and rules many hearts. She is a proven example for the fact that women can craft changes in the world. This respectable lady is one of the world's most distinguished business leaders, who got listed among the world's 100 most powerful women.
U.S. Secretary of Commerce Penny Pritzker Delivers Remarks at ICANN's 51st Public Meeting in Los Angeles, 12-16 October, 2014
Excerpts from her talk…
"The Internet indeed improves quality of life for millions and enables people from all over the globe to achieve greater economic opportunity. Without the Internet, a teenager from a remote village in southern India would not have been able to create his own business. Abin Jose Tom was 19 years old when he was given a school assignment to create a website. Five years later, Abin's project is now a global web solutions and design company named Webandcrafts, with more than 550 clients worldwide. We live in an era when all an entrepreneur needs to start, build, and promote a business is a mobile device and a Wi-Fi connection. Put simply, the Internet is a fundamental gateway to new growth for developing nations and continued prosperity for developed nations."
Webandcrafts shows the world that nothing can overwhelm the stature gained through exact and powerful intent. We stepped into the industry as a mere startup before 2 years and now reached to a position where every startups aspired to be. This position is not attained inadvertently; it is a result of true fortitude and dedication shown by our team. We have never compromised on quality and always delivered the best to our clients. Now the efforts and grit of our team are getting recognized globally and this adds to our magnificence.
We are familiar with the saying "Innovation Distinguishes between a leader and follower". Here Mr. Abin Jose Tom, the CEO of our company is a person who differentiates Webandcrafts from the other startups of the same period. He is one who drives our company as a perfect leader who knows the way, goes the way and shows the way to his team. His excellence to put together a team and execute his ideas and concepts successfully makes him a potential entrepreneur. Within a short span of time, we as a single team achieved many feats- A client base with more than 600 , a strong talented workforce, recognition and several awards as add-ons. Although, we realize that we have better heights to accomplish. Our team will certainly go on with enhanced strength and power in the future also since What really matters is, where we want to be than where we are now.
Quick Links:
Public comments on our Facebook post
Youtube Video, Uploaded by ICANN
Press Material, released by ICANN