WAC Gifts Its First Employee a Mercedes-Benz
WAC Gifts Its First Employee a Mercedes-Benz
News
3 min read
February 10,2023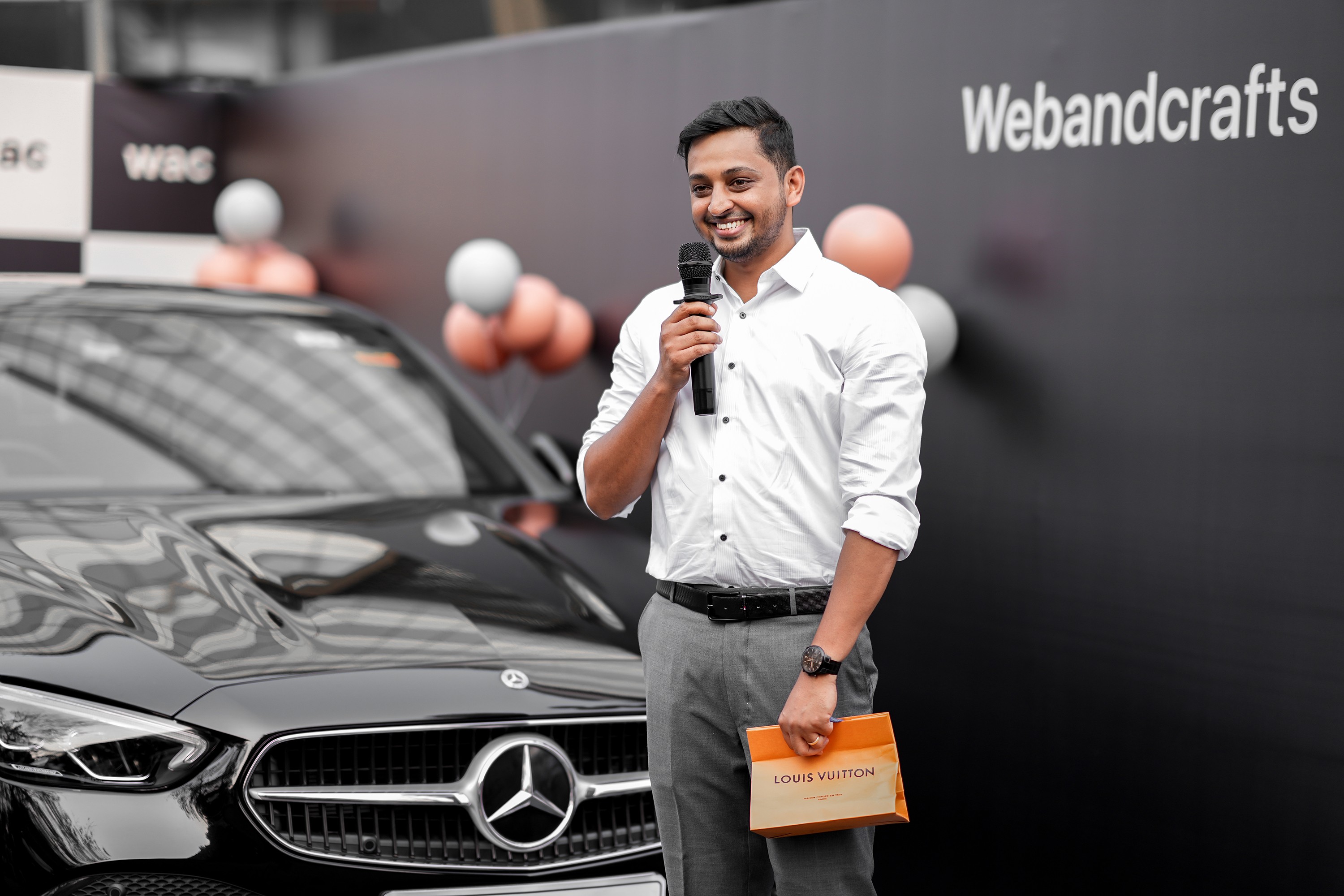 Bigger impacts take shape from hard work, persistence, and relentless effort towards the fulfilment of goals—and that's exactly what added sparkle to the career journey of Clint Antony, the Chief Creative Officer of Webandcrafts, who has always been the true inspiration and took the design face of the firm to new heights.
The decision to gift Mercedes-Benz to Clint was not a quick thought to CEO and Founder Abin Jose Tom, but a result of inspiration and his strong desire to extend his appreciation towards the efforts Clint had made for the success of the firm. Abin had drawn inspiration from Gujarati diamond merchant Savji Dholakia, who is well-known for rewarding his staff with expensive gifts like cars. After reading about Savji, he decided to present the luxurious car to Clint, who was with him right from his college days, even when the idea of launching a startup grabbed his mind.
"I was fascinated to read about Savji Dholakia, who used to gift the employees with expensive gifts. Clint has been with me since my college days, and we used to do freelance jobs together in the early days. He stayed with me ever since I started the company in 2012 and contributed to the growth of the company. He had a deep desire to buy a Mercedes Benz and was fancy about the cars, so I decided to gift him a car," said Abin.
Just like tiny drops make a mighty ocean, every effort pays off! Since its inception until what the WAC has today, Clint has always been a part of the journey. The event is a testament to his commitment to the organisation right from its inception throughout the success and growth of the firm. This celebration is part of our commitment to building a supportive and positive work ecosystem for our employees.
Over the past 10 years of developing WAC, the firm has been popular and recognised for its stunning design virtues and remarkable creative projects. Clint has contributed to WAC with his dedicated efforts and consistent work in every phase of our journey, be it a small or world-class project. Gifting the iconic "Mercedes-Benz C 220D" was the best-ever moment for WAC—the mesmerising four-wheeler in dashing black has been shining even brighter, reflecting his tireless efforts towards shaping the creative wing of WAC.
While celebrating the event, Abin added, "Our employees form the backbone of our organisation, and we feel honoured to have a team of dedicated and hardworking enthusiasts. Clint has been a part of us since the beginning and has played a crucial role in building success. We wanted to express our appreciation for his sincere efforts and found a better way to do it through gifting a luxurious Mercedes-Benz C-Class."
Abin Jose Tom, CEO and Founder of Webandcrafts, and Jilu Joseph, Vice President of Webandcrafts, officially handed over the Mercedes Benz C-Class key to Clint Antony during the event.
"We are committed to encouraging, recognising and rewarding the efforts and contributions of our employees. Our team has worked hard and proved way beyond, and we are excited to offer one of them this special gift to extend our gratitude", said Jilu Joseph.
The presence of eminent personalities including K G Girish Babu (Founder, Infoparks Kerala), Shamim Rafeek (Corporate Trainer, Business Coach), Susanth Kurunthil (CEO, Infoparks Kerala), and Joseph Mattappally (our mentor) and their thoughts have made this wonderful event of appreciation truly memorable.
The firm is already on its journey from a team of four in 2012 to more than 320 now, which still keeps growing, and has taken up the duty to honour the most deserving employee. An event with gratitude, happiness, achievement and inspiration—thanks to all who have made the celebration and the moment of appreciation a perfect time to cherish!