How To Get Your Brand Ready For Christmas?
How To Get Your Brand Ready For Christmas?
Blog
7 min read
November 10,2023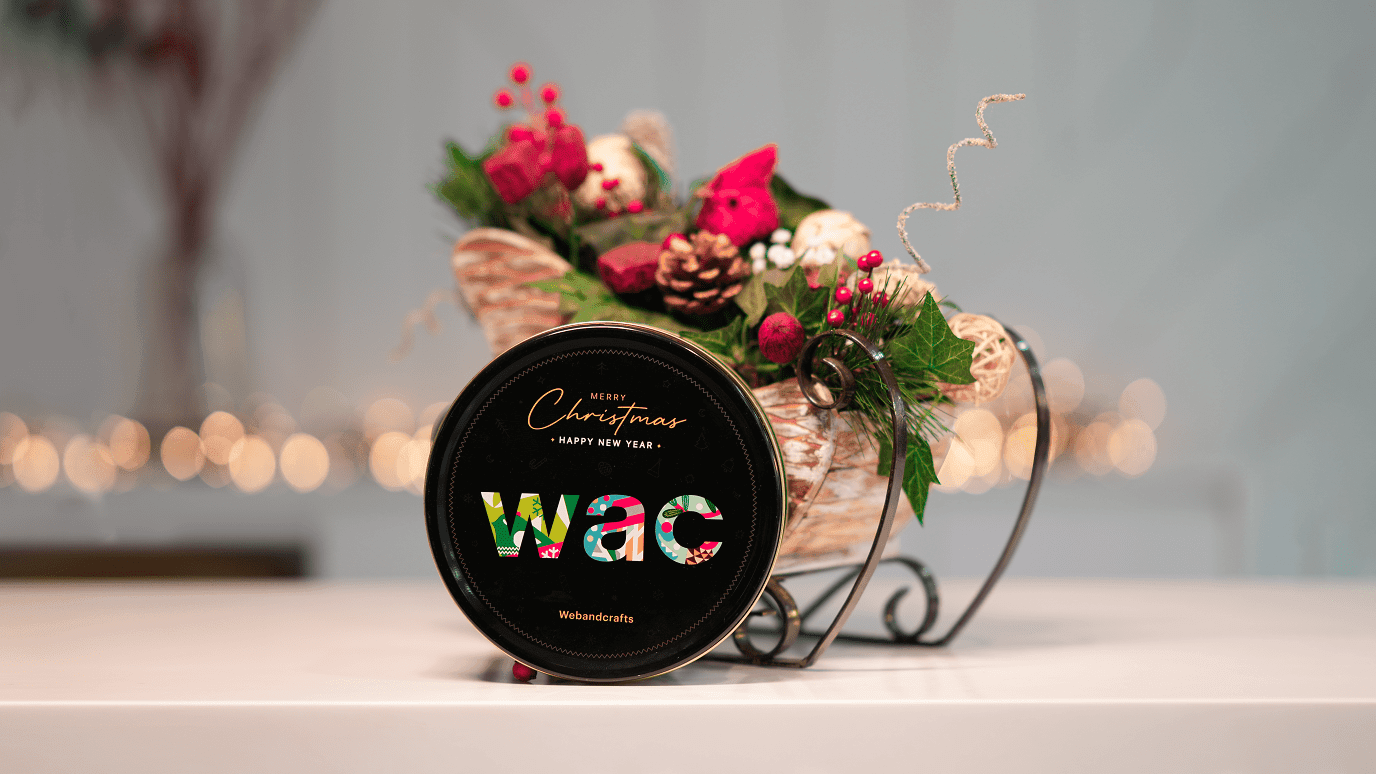 Every year during the holiday season, brands are endowed with an opportunity to make impactful and trending initiatives that let them highlight the organisational culture, brand identity, services or products they offer.
While the vision of creating incredible campaigns and focusing on branding is inspiring, the absence of the right strategy causes businesses to end up staying invisible among the competition.
Being the season of cheer and celebration, Christmas is the right time to leverage your power to bring brand value thoughtfully to consumers, stakeholders, clients and the entire world.
How can branding materials help you win more attention this holiday season? What should you add to your brand's Christmas to-do list and celebrate the season with style?
Let's get ready to welcome the Christmas season with all the seasonal ingredients essential to bringing the best out of your brand.
Why Should Your Business Target Christmas Branding?
For most businesses, Christmas could be a moment when they initiate a final push to hit their marketing or yearly goals.
However, a well sought brand makes the most of the season with campaigns, branding materials, creative strategies and well-planned attempts that contribute positively to the business.
So before you rush into the thought of adding a tag of Christmas greetings to your brand for namesake, you need to think of a refined approach that reaps more benefits that include:
Improved visibility and brand recognition: Once you are involved in the branding activities and put them forward to a wider segment of audience during the busy holiday season, you are giving your brand more chances to skyrocket. It improves visibility and brand awareness, especially during the holidays, when people tend to spend more time with your brand when you relate what you offer to the joy of the season.
Increased customer relationships: A holiday swag can let your brand steal the show and help you win the customer's appreciation. Effective branding during the holiday season brings in more Christmas sales, thereby contributing to customer loyalty with a great notion about the brand.
High employee morale: Christmas is a season of gifting and giving away the products to the workforce can let them feel valued for their efforts, which also helps to keep the brand standing out while taking care of employee morale and esteem.
Increased lead generation: Promoting the products or services or using the ideal digital marketing methods can generate more leads. For instance, announcing a special promotion in return for an investment made in the services or goods you offer during the holiday season is the best way to increase leads.
Gain a competitive edge: Since it is a competitive time for all brands, it is crucial to find different strategies this season where you should prove to be unique. A thoughtful promotional strategy or the right use of branding materials can help you make the face of your brand versatile.
Christmas Checklist: The Best Ways To Make Your Brand Season-Ready
Choose Branding Materials Everyone Will Love
Bring a glimmer of happiness to the entire team with the fully printed, branded gift box. A Christmas gift hamper with a powerful branding package is an excellent idea for gifting employees, stakeholders and clients during this special season.
At Webandcrafts, we ensure gifting an exclusive cake box to our team that embraces the festive spirit while also signifying the strength of our brand.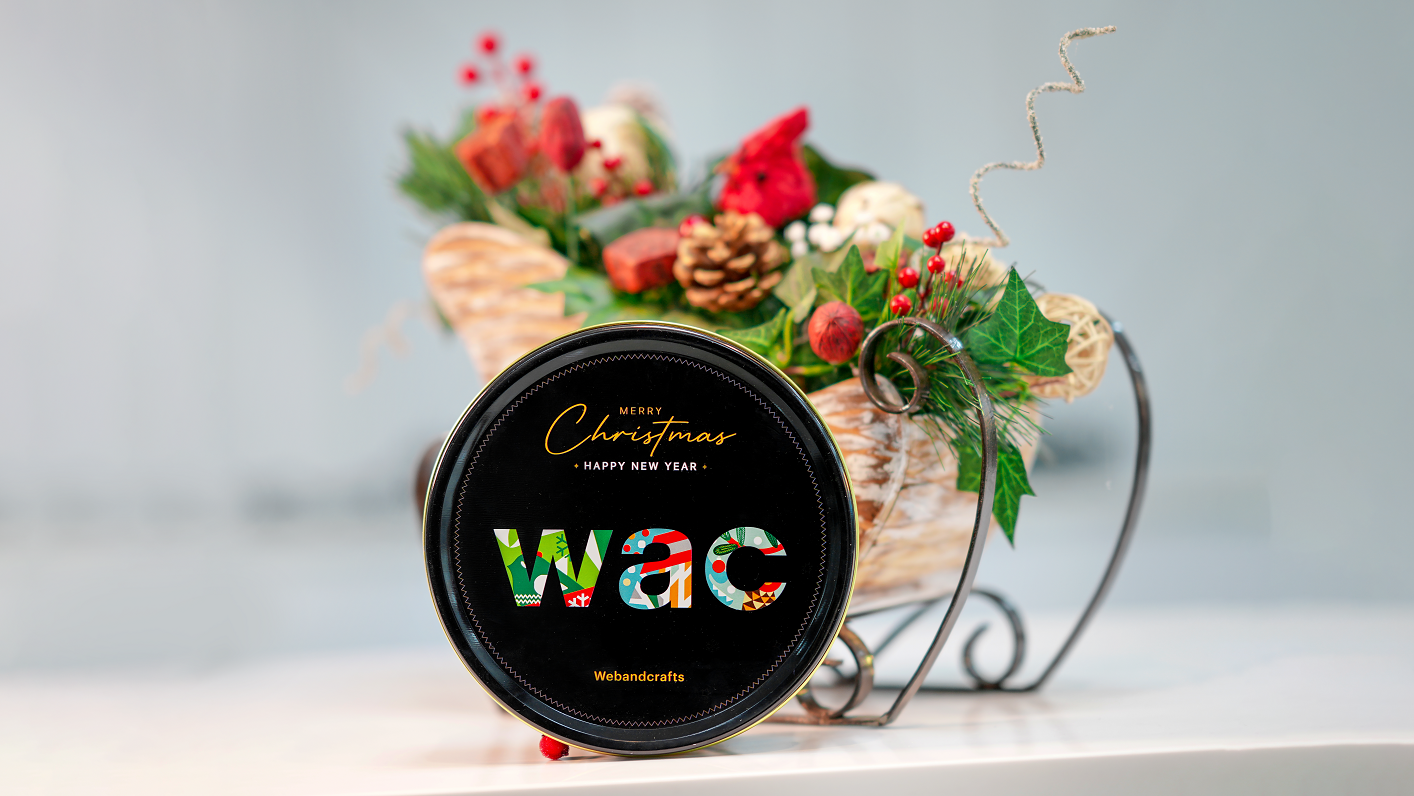 You can also try branded Christmas hats, season candles, or sweet boxes as gifts. How about a Christmas dress code that holds your brand identity up in team photoshoots?
A perfect present for your team is also an amazing idea to make gifting closer to your heart. Think of edible treats or gifts that closely resemble the meaning of the season while making sure your brand gets covered in every snap to evoke memories of the promising leap.
Get Your Workspace Season-Lifted with Branding Elements
Christmas decoration not only brings cheers to your team but also to your brand. Introducing the elements of your brand and integrating them with the Christmas decor can let you portray the colours of the season and the integrity of your brand to the crowd.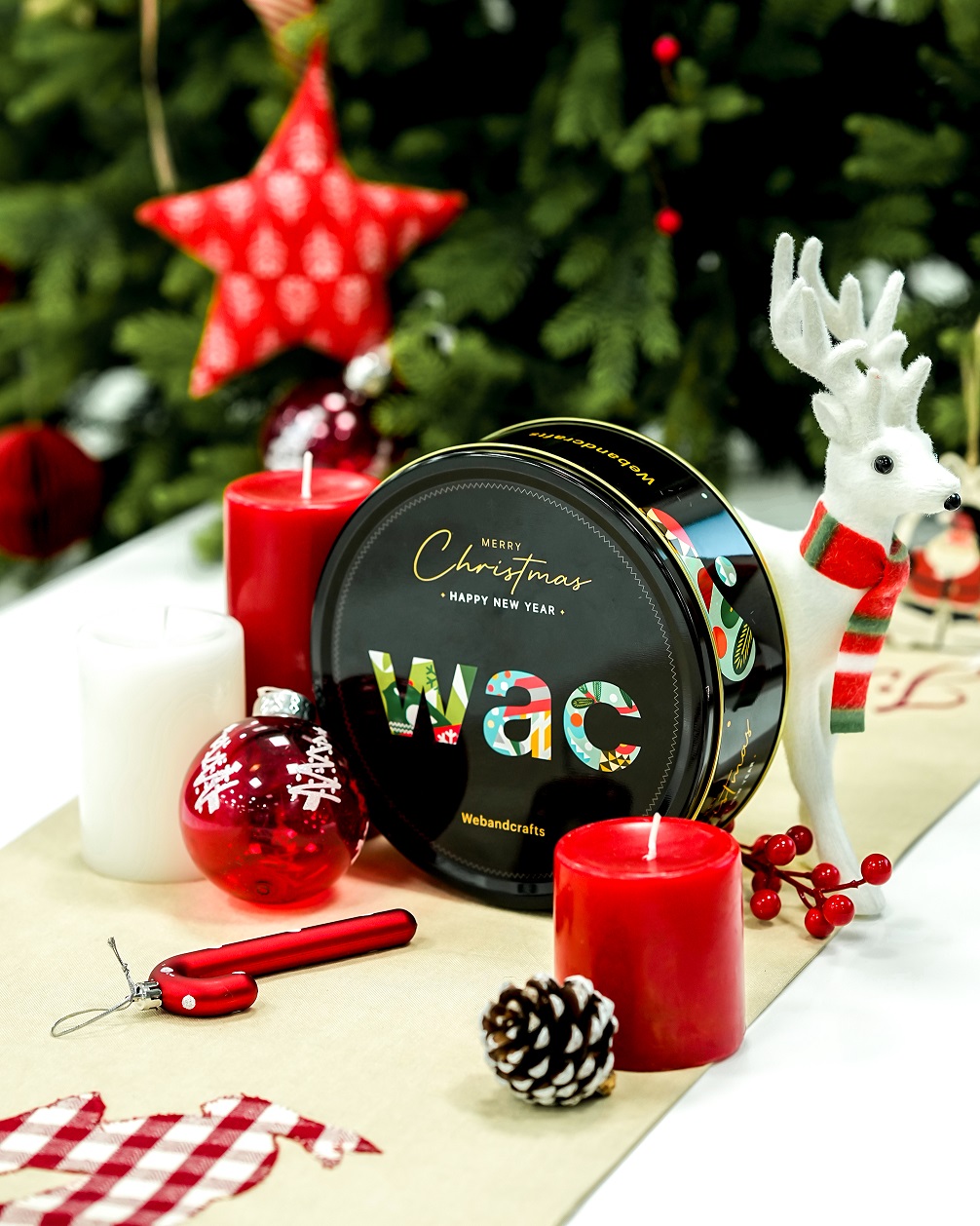 Here are certain ways you can decorate the workspace:
Arrange a series of brightly coloured LED lights
Use the colours of the season in your decor (red, white and green to represent Christmas)
Set up a Christmas tree with the coloured brand logo hangings and other usual Christmas tree decorative items.
Use Santa hats—you can also pose with the Santa hats for a photograph in the photo booths with brand elements and seasonal decor.
Create brand signs with seasonal elements.
3. Film a Brand-Centered Promotional Christmas Video
Portray the human side of your brand with a promotional, exclusive Christmas video. You can incorporate a tour of your business space, which is well decorated with seasonal decor items, branding materials, gift items, etc.
Also, filming the video where the employees convey their Christmas greetings is another great idea. A video needs effort and can be practically impossible for some of the businesses in the stipulated time.
However, editing and exporting short videos from phones can also be advantageous to your business; you can upload them to social media platforms and marketing channels.
Capture the lively moments of how you celebrate Christmas and the sweet pictures of in office Christmas events. Holiday content and photography can help make content marketing during Christmas extraordinarily engaging. Through visually appealing content, you can bring more people to your brand and retain customers.
You can use props that are associated with Christmas, like wreaths or ornaments, and inscribe the brand logo or name into the materials.
Add seasonal colours and festive lighting to give a feel of the blissful season.
Let your employees pose with the brand materials to invoke the field of lifestyle photography that gives colour to your branding activities.
Adding photographs and videographs to social media is not enough. Remember to be social and engage with your audience through interesting conversations specific to your brand.
You can also share Christmas wishes and Christmas cards in the name of the brand with interactive posts, quotes, polls and other features on social media.
4. Accommodate Seasonal Elements in Your Brand Logo
It's exciting when your brand logo takes a shapeshift to celebrate the culture and holidays of every year, and Christmas is one of them. Google's logo design and creative on-brand season logos make a good example of where to get started.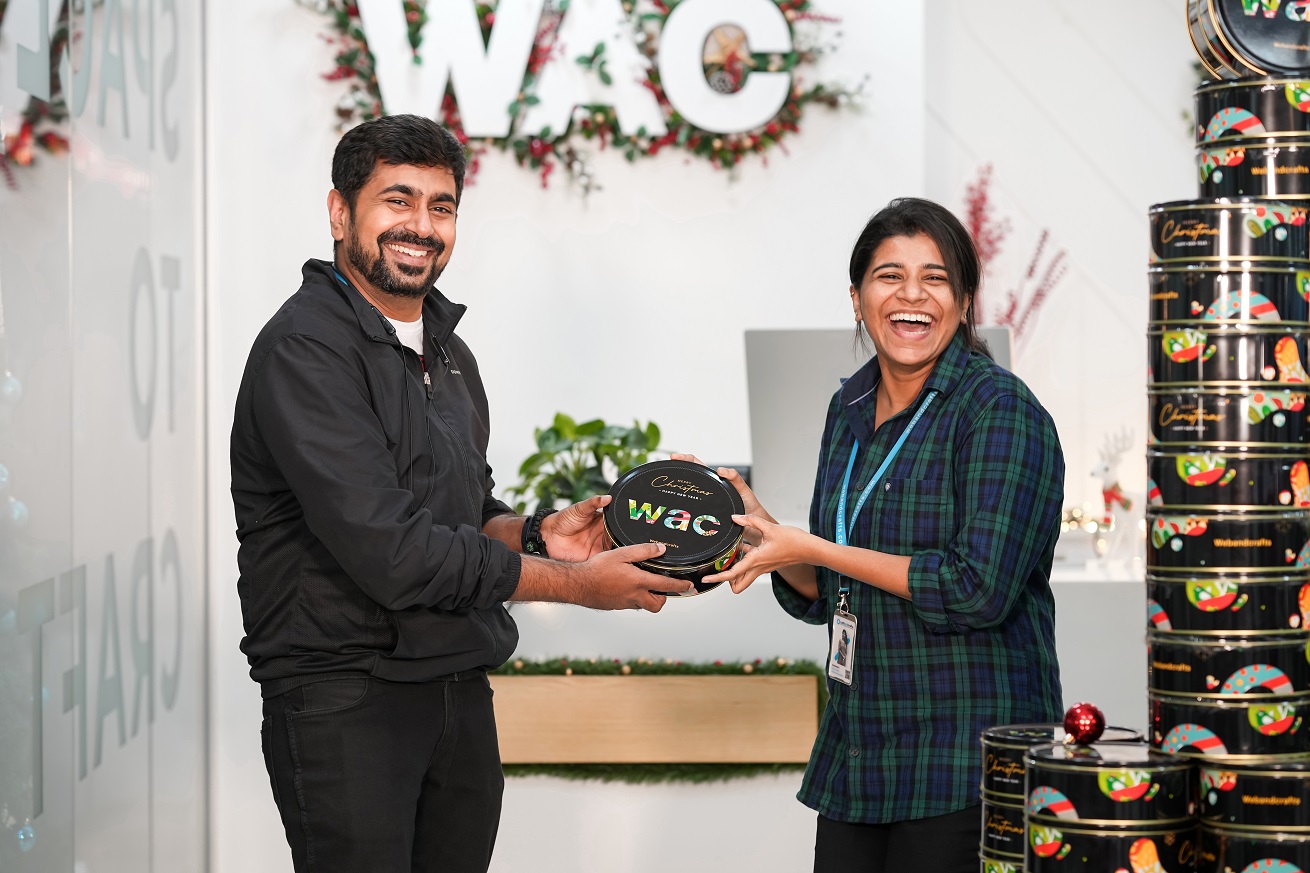 Get creative; you can also make the website snow using plugins or utilise the web design services to give your brand a sense of Christmas. Another way is to use shapes and outlines, which you can cleverly incorporate into the brand icon or the brand name.
Think of the shapes, colour schemes, and words that can link the season with what your company offers to create powerful designs. You can always reach out to a web development company to make your brand look stunning and take on a unique position.
5. Play the Game of Content Marketing
Content marketing is a method that hits customers and lets your brands infuse the essence of the season into marketing to create personalised user experiences. Adding a content strategy aspect to holiday marketing can help win huge recognition.
Use content marketing to boost your brand awareness through social media, blogs, posts, email newsletters, and other marketing platforms.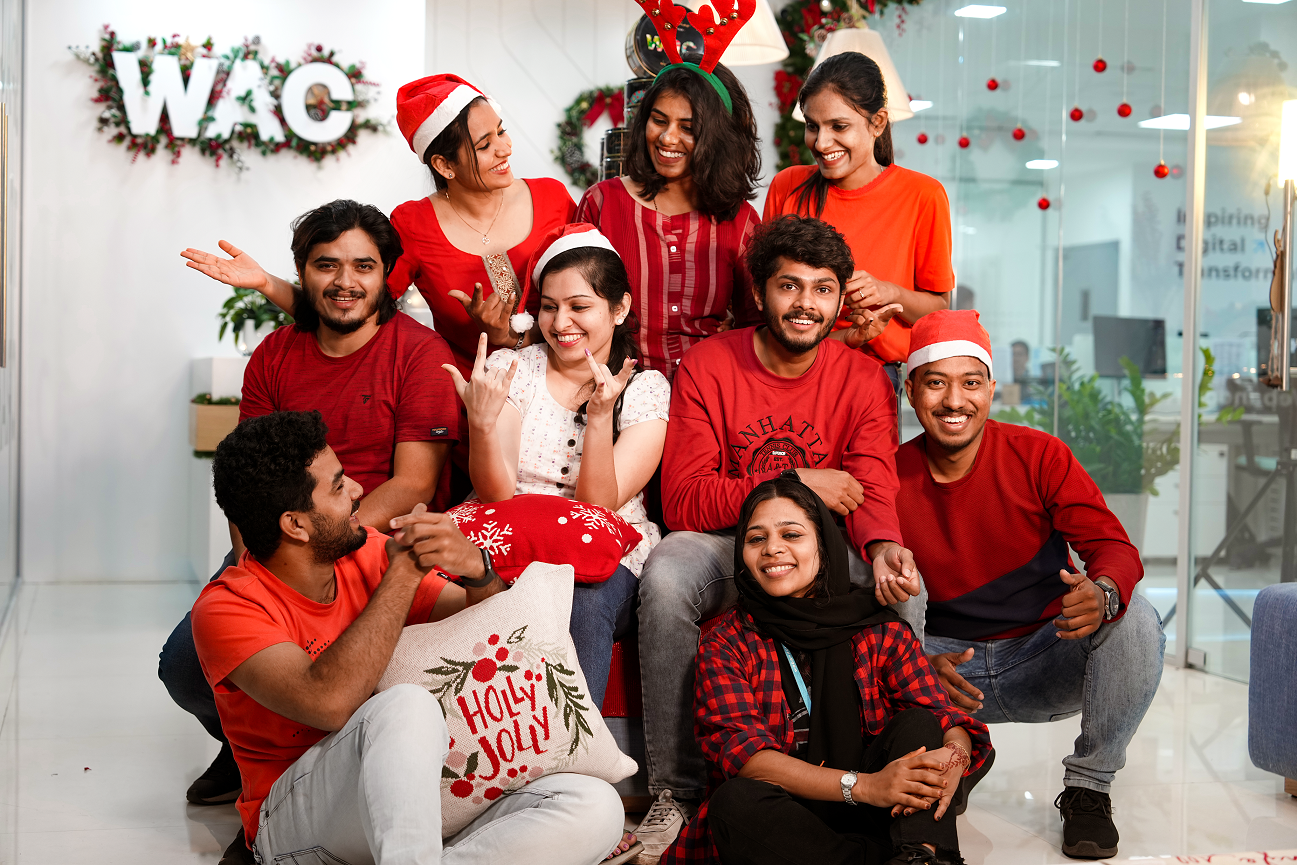 You can also make it attractive through holiday, themed, content or season greetings, along with the valuable information about your brand that you wish to associate with the occasion.
You can also try posting or sending the brand inspired creatives along with a blend of creativity in the brand logo, which reminds the audience of Christmas.
You can also show the Christmas spirit across the social media channels by posting your office decor photographs, videos of the staff, sharing the joy of the season, Christmas special activities and everything else your stakeholders or customers might be interested in looking into.
The Wait is Over— Let Christmas Bells Resonate Your Brand's Voice
Christmas is around the corner; make sure you are ready for the rush! But nothing to worry; with careful planning, creativity and thought, this holiday season could be your brand's best yet!
Whatever you do, at Webandcrafts, we wish a merry Christmas, especially with the layer of happiness we've added to this blog through our strategic tips contributing to your brand success.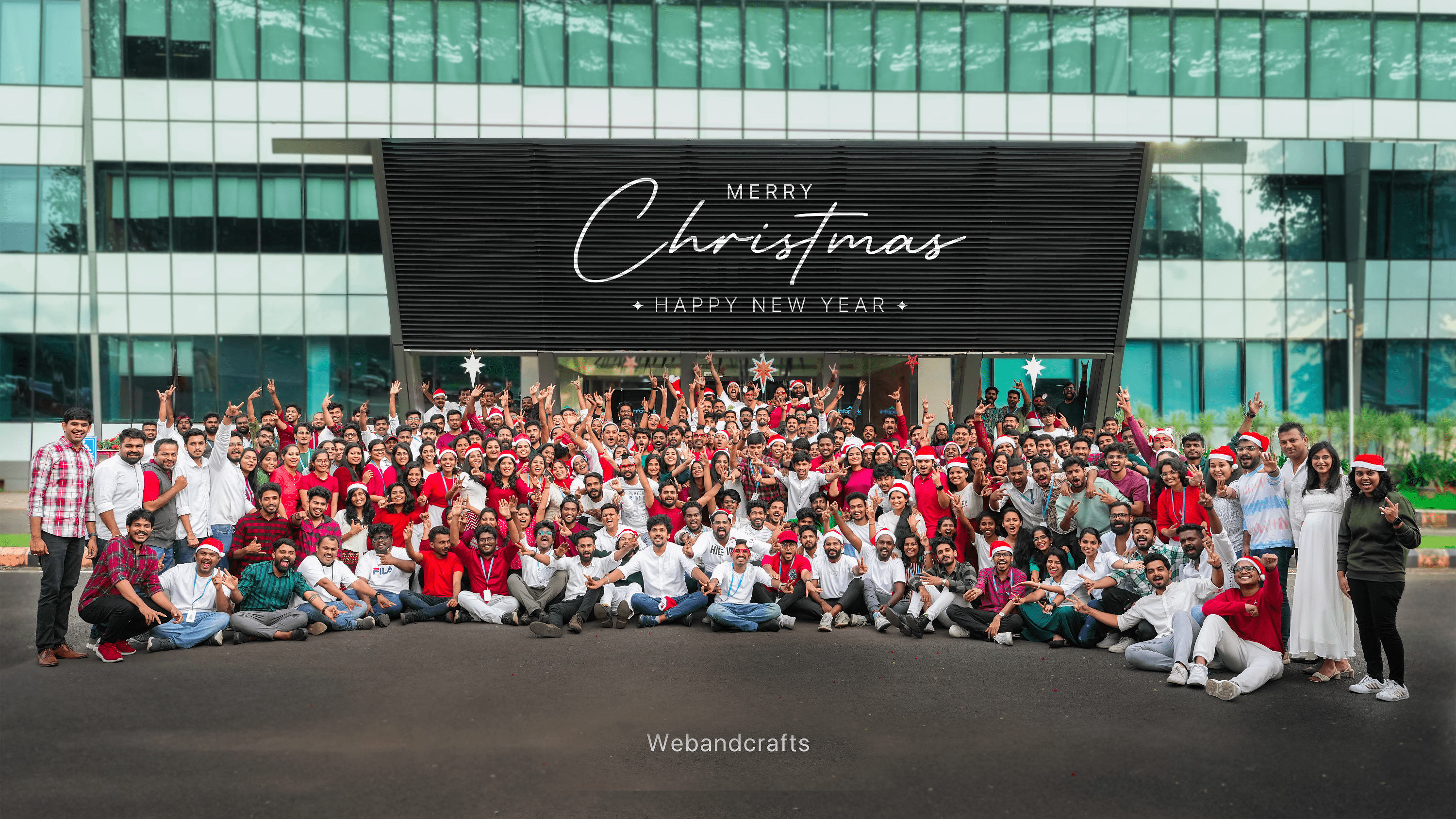 Need help with branding consulting services or wish to elevate your digital transformation journey?
Get in touch with us here at WAC—a fully equipped team ready to take your brand global with a digital revolution.